A hospital has 16 isolation rooms. Each room has a patient with a different illness.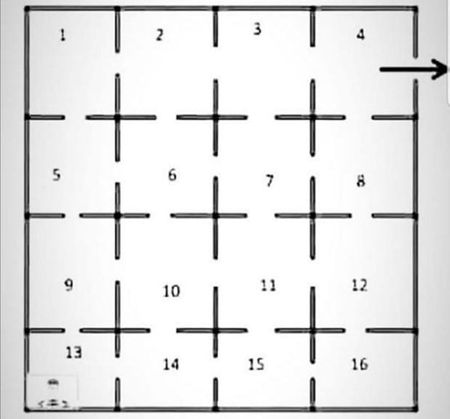 Patient in room 13 recovers and wants to say goodbye to each patient. The problem is that if he visits a patient twice, he becomes ill again.
How does he visit each patient only once and exit from room 4?
Answer
There are numerous possible solutions. Some of the possible solutions can be found below.
13 > 9 > 13 > 14 > 10 > 6 > 5 > 1 > 2 > 3 > 7 > 11 > 15 > 16 > 12 > 8 > 4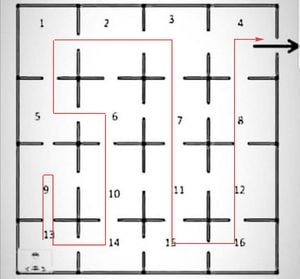 13 > 9 > 13 > 14 > 10 > 11 > 15 > 16 > 12 > 8 > 7 > 6 > 5 > 1 > 2 > 3 > 4
13 > 14 > 13 > 9 > 10 > 11 > 15 > 16 > 12 > 8 > 7 > 6 > 5 > 1 > 2 > 3 > 4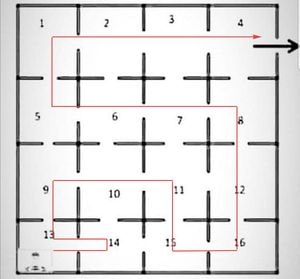 A few other possible solutions are:
13 > 9 > 13 > 14 > 15 > 16 > 12 > 11 > 10 > 6 > 5 > 1 > 2 > 3 > 7 > 8 > 4
13 > 14 > 13 > 9 > 5 > 1 > 2 > 6 > 10 > 11 > 15 > 16 > 12 > 8 > 7 > 3 > 4